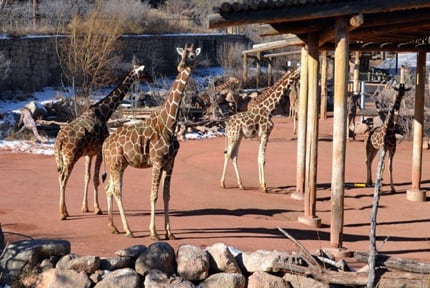 Cheyenne Mountain Zoo: Giraffes
Category:
Animals
Location:
Source:
cmzoo.org
Welcome to the highest zoo in America! The Cheyenne Mountain Zoo is located southwest of downtown Colorado Springs and sits at an elevation of 6,714 feet above sea level. The zoo's unique design means that visitors can get closer than ever to the 750 animals that call the zoo home. Even if you can't be there in person, you can still experience the wonder getting up close and personal with exotic animals with Cheyenne Mountain Zoo's live giraffe cam.
Cam 1
This original feed lets viewers watch up-close, visitor feeding of the giraffes. This live feed provides a static, high definition stream of the platform visitors are on, which is positioned at head height for the giraffes. This makes feeding and interacting with the giraffes easy. While the cams are available at night, the enclosure does not have any lighting in the evening, making viewing impossible.