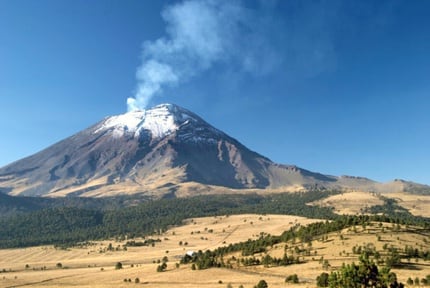 Popocatepetl Volcano
Category:
Mountains
Location:
Mexico
Puebla
Source:
youtube.com
Popocatepetl volcano, "Smoking Mountain", is the second tallest peak in the Trans-Mexican belt stretching through Mexico's states Puebla and Morelos. It's steep-walled crater measures at 1,300 ft x 2,000 ft wide.
Watch for signs of volcanic activity with both these cameras. Day views are clear, as long as there are no clouds which can hide the mountain. Sunrise and sunset views are spectacular but night visibility is poor.
Cam 1
This webcam is a close up of its peak. Winds cause the video to shake a bit.
Cam 2
Camera 2 is a distant view of the entire volcano showing the tops of a set of trees.