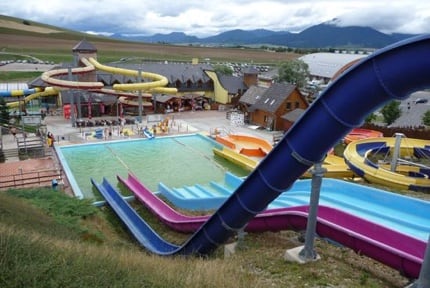 Aquapark Tatralandia
Category:
Water
Location:
Slovakia
Source:
tatralandia.sk
Get a full view of the Aquapark and its many Aquapark Tatralandia is undoubtedly a must see water park in Slovakia. Its thermal waters draw in tourist from around the world along with its water park attractions. There is something for everyone here, both young and old. For opening hours and dates, please visit their Hours of Operations page.
Cam 1
Camera 1 covers the aquapark giving you a great view of the water slides the park is famous for. Watch as visitors have tons of fun sliding down the watery slides as it pans around the park from high up. This gives you a great view of the current occupancy before visiting.
Cam 2
Camera 2 is focused on the heated pool of the park. Visitors frolic around throughout business hours in the warmth of the water having fun and relaxation. You can see the steam from the pool through most of the day in this webcam.
Cam 3
Camera 3 is focused on the children's park. Reserved for children to have fun in a safe environment, you get a view of the Holiday Village park. Check this camera frequently for current weather conditions before visiting the park.