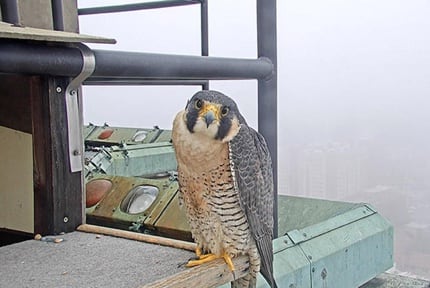 Peregrine Falcons, Texas
Category:
Birds
Location:
Source:
biodiversity.utexas.edu
Welcome to Tower Girl's perch! This aptly named female peregrine falcon calls The University of Texas Tower home and lives (and hunts) in the urban center of Austin, Texas year-round. From this live feed, you can see Tower Girl's nest box at the top of the 302-foot tower. This cam allows students and scientists at the Biodiversity Center to monitor Tower Girl and further their research concerning land use and species interaction in Texas.
You can virtually visit Tower Girl's high-rise home from this high definition feed that provides you with a real-time view of the nest box. Available day or night, the camera uses a nighttime, infrared setting to allow you to see Tower Girl when she's in her box, no matter what time it is. From resting times to when the males come calling to court, this live webcam is a unique way to see a Peregrine Falcon up close and in the wild.