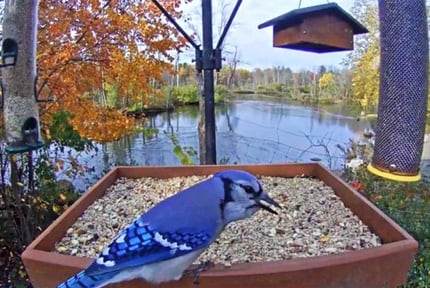 Bird Feeder, Ithaca
Category:
Birds
Location:
Source:
cams.allaboutbirds.org
Enjoy the sunshine and the sound of singing birds at the Treman Bird Feeding Garden at the Cornell Lab of Ornithology bird feeder. The FeederWatch cam lets you watch a variety of birds–and the enterprising squirrel here and there–feed in the sun. Four individual hangers, as well as a seed-filled tray, mean that there's plenty of room for finches, woodpeckers, chickadees, and Red-winged Blackbirds to congregate.
This high definition cam is provided by the Cornell Lab of Ornithology and allows you to rewind the video up to twelve hours and allows you to view the bird feeder at any time during daylight hours. Placed at the edge of the Sapsucker Woods, you can see the forest beyond the feeder and watch the sun slowly filter through the trees in the morning and see the warm glow as the sun sets in the evening.