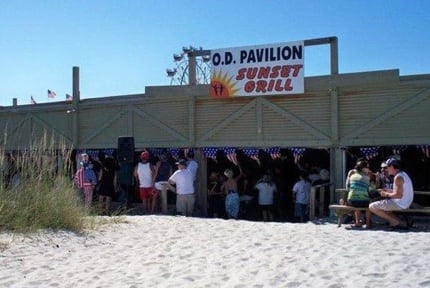 Ocean Drive Pavilion Grill
Category:
Bars
Location:
USA
Northe Myrtle Beach
Source:
odpavilion.net
Located at the end of Main Street Ocean Drive Pavilion bar and grill is the place to be for excitement and fun. The OD Pavilion, as it is commonly called, has a great atmosphere for social gathering with a variety of food and drinks on their menu to choose from. It even comes with a dance floor when you feel the urge the show your moves.
This open-air pavilion provides an amazing line up of DJ's and bands, there is even Church Services provided here called the Church of the Lost and Found. Are you a kid at heart? OD Pavilion also includes an arcade for the little gamer in you. Enjoy the ocean air and beautiful view of the Atlantic while having a cold one or just sit and relax and listen to great music while socializing. This is definitely a place to check out while in Myrtle Beach.
The camera is overlooking the dance floor with a little bit of a view of the social area. Watch as patrons have fun shaking it down on the floor. Have a friend or family member celebrating an event at the pavilion that you can't attend? No problem, just sit back at your computer and watch live as they celebrate. The wide view of this webcam means you won't miss a thing. Available 24 hours a day, the best time to view the pavilion is at night when all the action is happening.