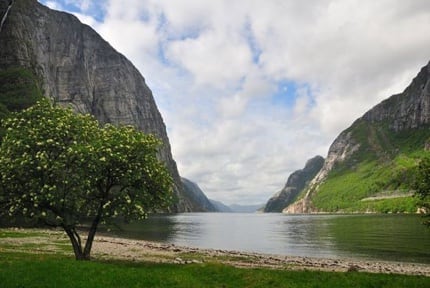 Lysefjord
Category:
Water
Location:
Norway
Rogaland county
Source:
lysefjordcam.com
Lysefjord is one of the most impressive views being 26 miles long with cliffs reaching almost 2000 feet along its length and its river depth ranging from 43 feet to 1,300 feet. Two primary villages set along the fjord Forsand, located near the only fjord crossing Lysefjord Bridge, and Lysebotn. In between these two villages are several small settlements that are only accessible via boat along the river front.
The two main tourist attractions include Preikestolen Cliff which reaches 1,982 feet and Kjerag mountain which reaches 3,640 feet. Because of its impressive straight down cliffs, Lysefjord offers a great place for base jumping for thrill seekers and is legal in the region.
The camera sits on the west side of the Lysefjord village and randomly changes its view to various areas around the village. Available day and night, some of the focus points are closeups of various structures throughout the village, views of the village streets, and a wide view of the fjord itself. On the left side of the camera feed is the current weather and temperature information for the area as well.