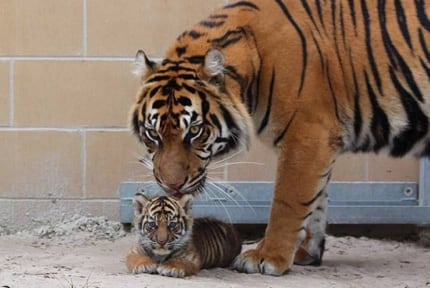 Jacksonville Zoo: Tiger Cubs
Category:
Animals
Location:
Source:
jacksonvillezoo.org
In 2017, the Jacksonville Zoo welcomed two new baby tiger cubs to the Land of the Tiger exhibit. Named Jaggar and Rocky, the cubs were only the second birth of tiger cubs in the zoo's 102-year history. Since then, they've been providing the public with a live video feed of these rambunctious cubs. The zoo's tigers are part of a globally managed species program that helps to maintain a healthy population of the severely endangered Sumatran tiger.
The cubs have access to a large exhibit full of logs, streams, and bamboo. The live feed switches between the pen at night (using black and white night vision) and then to a bathing pool during the day. The high definition feed can be rewound up to twelve hours, so you can scroll back looking for a glimpse of the elusive big cats.