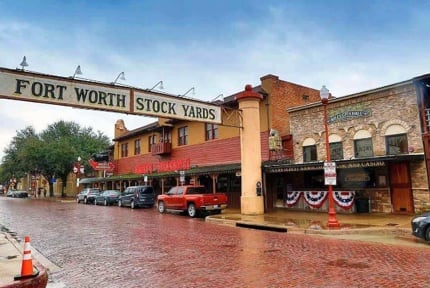 Fort Worth Stockyards
Category:
Cities
Location:
Source:
youtube.com
Welcome to where the West begins at Fort Worth Stockyards. Located in the bustling metropolis of Forth Worth, Texas, the Forth Worth Stockyards traces its heritage all the way back to the 1860s when drovers would drive millions of head of cattle through the North Central Texas town. Rich in history, the Fort Worth Stockyards' incredible legacy lives on through the North Fort Worth Historical Society. They still host two cattle drives a day (the only ones like it in the world) and sell thousands of head of cattle at the Exchange Building via satellite video.
Facing the entrance of the Fort Worth Stockyards, this 4K webcam looks out over the terracotta roofs of the stockyards and pens. Available 24 hours a day, this live feed allows you see cattle drives, concerts, and other events taking place at the stockyards. In the background, you can see the skyline of downtown Forth Worth on the horizon.