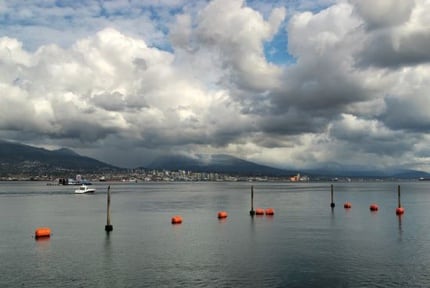 Vancouver: Burrard Inlet
Category:
Water
Location:
Source:
earthtv.com
Decorated with beautiful blue waters surrounded by majestic mountain ranges, the Vancouver Burrard Inlet located in Vancouver, Canada is a sight to behold. Hundreds of ships from small personal vessels to large commercial ships travel these waters daily to and from this grand city. There is a beautiful coastline with sandy white beaches where thousands of visitors per year take part in windsurfing and other summer activities.
This webcam pans from right to left giving you a live view of the entire inlet. Watch from large ships to smaller speed boats as they maneuver around in the inlet to their destinations. It also gives you views of the beach area where dozens of windsurfers set sail along with views of the city of Vancouver in the background. Check this camera for current weather conditions in the area as well as crowd status before visiting. This live feed is best viewed during the day. This camera is known to be intermittent, keep checking back if it is not currently working.