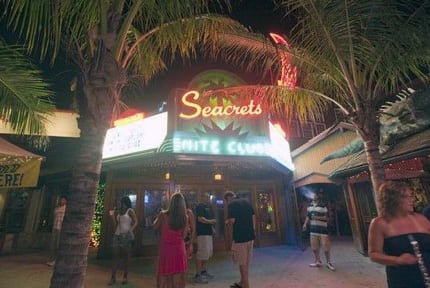 Seacrets Bar
Category:
Bars
Location:
USA
Ocean City
Source:
seacrets.com
Open daily during the summers and Thursday thru Sunday the rest of the year, this year-round restaurant and bar is home to many events and celebrations. From Weddings to Banquets, thousands of people have celebrated their special moments in this open-air establishment on the beach. Opening hours are from 11 AM to 2 AM. Minors are welcome from open to 10 PM and there is a strict dress code for patrons.
Raw Bar
This video stream covers the main bar area located right on the beach. Watch as patrons enter the bar and mill around from the beach area in their swimwear from this wide birds-eye view of the area.
WOCM Studio
Enjoy this studio camera from the WOCM AAA/Rock 98.1 FM "Ocean 98" radio studio in the Seacrets Bar. Offering some the best music in the area, you can watch as the DJ's dish out tunes and blurbs throughout the day.
Distillery Tower
This camera is overlooking the Seacret Distillery Company. Watch day or night as the trucks load up to transport their various locations. This is also a great way to see the local weather conditions in the area.
Bay Cam
Overlooking the Bay, this camera gives you a view of the weather conditions during the day but has poor visibility at night.