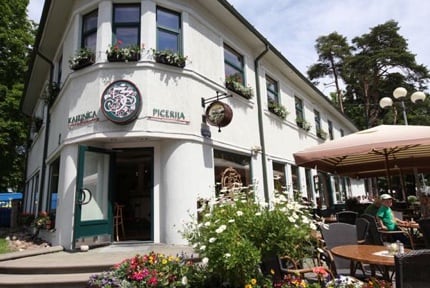 Cafe 53
Category:
Bars
Location:
Latvia
Jurmala
Source:
balticlivecam.com
When visiting Jurmala Lavia, Jomas Street is the place to go. Famous for its cafe's and restaurants, Cafe 53 is the most popular of them all. Anyone who is anyone goes to Cafe 53, a place for great food and a lively atmosphere. Cafe 53 offers a wonderful dining experience both inside and out.
Planning a visit to the Cafe? Check out the two Jomas Street cameras located across the street from the camera. Each webcam overlooks an opposite end of the street giving you a full view of the activity. Be sure to check out the two live streams for current weather and traffic conditions.
Cam 1
Webcam 1 overlooks the street in front of the cafe on down (on the bottom left of the image). There is a beautiful view of the park and scenery on the right of the image along with other eateries and shops to explore.
Cam 2
Webcam 2 overlooks the opposite of the cafe showing other cafes, restaurants, and shops that are located along the street.