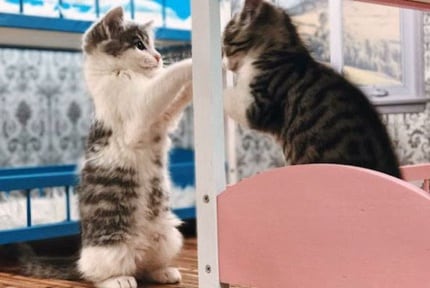 Kattarshians: A Cat Reality Show
Category:
Animals
Location:
Iceland
Reykjavik
Source:
nutiminn.is
Why keep up with the Kardashians when you can keep up with the Kattarshians instead! This live reality video stream is brought to you by the Icelandic Cat Protection and is available 24 hours a day, 7 days a week.
Camera 1
What better way to pass the day, then to watch as these adorable bundles of fur romp around their dollhouse style home. Cam 1 covers the entire enclosure showing a static view of the upstairs and downstairs allowing you full view of the action.
Camera 2
Sitting at a slight angle, webcam 2 covers the "backyard" of the enclosure. Enjoy watching them romp and play with the delectable toys available for them. You also get a view of the downstairs living and dining areas.
Camera 3
This camera gives you a full view of the upstairs den. You can view the cats lounging around in this area frequently.
Camera 4
This video stream covers their sleeping area, though the prerogative of any cat is to sleep where they please.