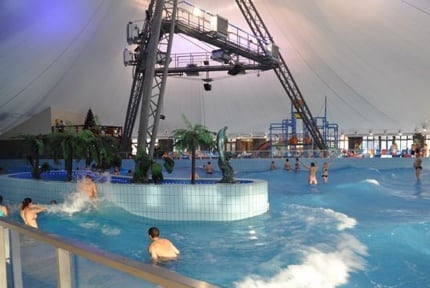 Aquapark Gino Paradise
Category:
Water
Location:
Slovakia
Besenova
Source:
ginoparadise.sk
Aquapark Gino Paradise situated in Besenova, Slovakia is a summer excursion that should be on anyone's list. The park contains 23 pools and whirlpools and 15 different water tubes and slides to enjoy. This resort is open daily during the summer from 10 AM to 9 PM and is filled with all kinds of activities for the whole family to enjoy. Visit the site for price listing for this summer paradise or just watch it live on video from home.
Pool Cam
The pool area can be enjoyed day or night but because of park hours, there is not much to see after the park closes. Situated at one of the parks indoor pools, you get a sense of the fun from this live feed as visitors to the park cool off from the summer heat.
Panorama Cam
Best viewed during the day to enjoy the full life of the park, the panorama camera faces the main attraction area of restaurants along with a view of one of the pools. This view also includes the main events area where tournaments such as the volleyball games can be viewed.
Watch as people laugh and play, splashing about in the water or enjoying the antics as they relax in the sun. These videos give you a full view of the weather conditions in the area before taking a trip to the park.