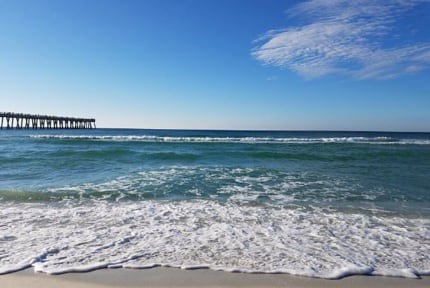 Navarre Beach
Category:
Beaches
Location:
Source:
navarrebeachlife.com
The white sand of Navarre Beach, Florida will feel like it's at your feet when you're watching this live feed. A small beach community along the Gulf of Mexico, Navarre welcomes plenty of tourists looking for loads of outdoor recreation, fishing, and sailing. From this live webcam, you'll be able to see how crowded the beach is, what the weather is like, and what the waves are like.
This high-rise and high definition webcam offer you twelve exceptional views of Navarre Beach. Switching between eastern views of the Navarre Beach Fishing Pier and panning west to the Gulf Islands National Seashore, this webcam will give you unlimited views of the Emerald Coast and the Gulf of Mexico. Provided by Navarre Beach Life, this feed can be rewound up to four hours and provides a black and white night vision option after the sun goes down.