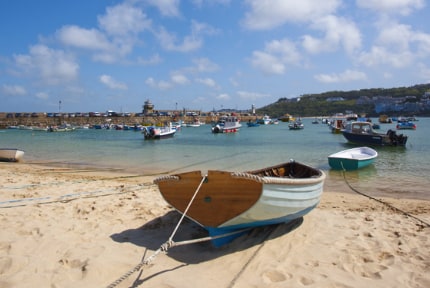 St. Ives Harbour
Category:
Cities
Location:
Sources:
youtube.com
,
aspects-holidays.co.uk
,
skylinewebcams.com
One of the most beautiful beaches on the Cornwall coast in England is St Ives. It is still a working harbor, and the town itself has been voted the best seaside town in the UK in recent years. St Ives has an oceanic climate and is renowned for its mild winters and warm summers. The town of St Ives is built on a narrow peninsular and fringed by golden sandy beaches. If you are feeling energetic, get your surfboard out. St Ives offers some of the best surf in England and is popular with the surfing fraternity all year a round.
The St Ives beach webcam surveys Portmear beach, probably the most popular beach in St Ives. The expanse of sand gives a tremendous overall depiction of life as it is taking place on the beach and in the sea in the distance. The camera captures a panoramic view of the whole beach area. You can see what a popular place the beach is for surfers as there is a steady trail of surfers walking to and from the sea and surf. The camera also picks out the many sun worshippers who adorn the beach in the hope of catching some rays.