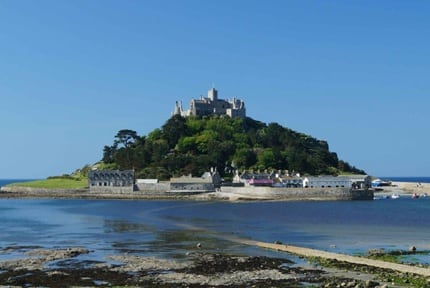 St. Michael's Mount
Category:
Sights
Location:
Source:
aspects-holidays.co.uk
The beautiful St. Michael's Mount is one of the most photographed locations in England. The picturesque location is a small tidal island in Cornwall that can only be reached without a boat during mid-tide and low tide. As the tide rises, the causeway submerges leaving St. Michael's Mount an island. St. Michael's Mount is home to an impressive, historic castle atop the hill, as well as cafes and shops. Open from Sunday to Friday and closed Saturday, all visits to the unique tidal island are dependent on sea conditions.
This live feed is positioned across from the mount and looks out over Mount's Bay from the causeway. From this high definition camera, you can watch the tides slowly change, and the seasons shift across the water. Be there as the sun rises across the bay and the sky lightens and watch again as the sun shifts and sets. The feed allows you to take snapshots and also view time-lapses of the tides rising and falling and boats ferrying visitors across.