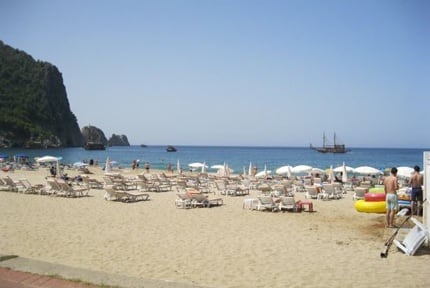 Kleopatra Beach
Category:
Beaches
Location:
Source:
palmiyebeachhotel.com
Cleopatra Beach located at the foothills of Alanya Castle is one of Turkey's most protected beach because of its unusual silky fine sand. It is believed that Cleopatra imported the sand for her own use, but this is no longer allowed. Showers are situated on both sides to ensure you do not take home any of the sand as you leave.
This webcam is situated in perfect view of the sunbathing area outside the Palmiey Beach bar giving a beautiful view of the Mediterranean Sea and the fine white sands the beach is famous for. Enjoy the live stream of the area while listening to relaxing music that plays 24 hours a day. Check this camera for current weather conditions before visiting the beach area, the view is spectacular during the day. Night views are also available due to the lighting from the beach front bar.