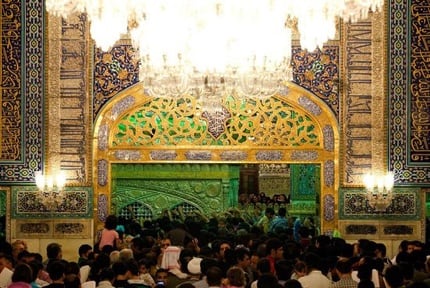 Imam Reza Holy Shrine
Category:
Other
Location:
Iran
Mashhad
Source:
razavitv.aqr.ir
The Imam Reza Holy Shrine consist of 7 courtyards (Sahn); Inqilab, Azadi, Imam Khomeini, Goharshad Mosque, Quds, Jumhuri Islami, Jameh Razavi, and Gadeer. Established in approximately 818 originally as a mausoleum for the 12th Shiite Imam Reza, it is the largest Islamic shrine in the world to date, covering an area of 3,569,080 square feet and is able to hold a capacity of up to 500,000 worshipers at a time.
Pilgrims from around the world travel to this holy place to pay homage to Abbas Mirza, Fath-Ali Shah's vicegerent in his final resting place in the Dar-al Hoffaz before being allowed entrance into the Holy Shrine. Once a year a ceremony is performed where thousands of people enter the Dar-al Hoffaz to clean it of dust and debris that has built up over the year on the shrine.
The camera is focused on the Dar-al Hoffaz or the place of the Reciters just south of the Holy Shrine and is available in high quality, medium quality, and low quality feed. The view allows for you to observe as pilgrims pray before being allowed entrance into the Holy Shrine. This live stream is available 24 hours a day with no downtime and covers a clear view of the shrine and the pilgrims that come to pray.