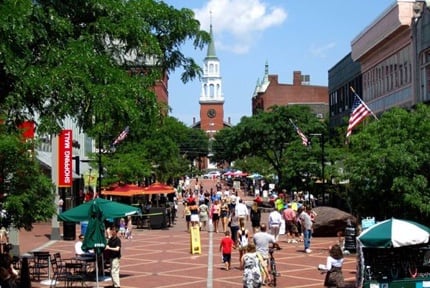 Church Street Marketplace
Category:
Cities
Location:
USA
Burlington
Source:
youtube.com
Everyone has heard of the famous open air mall Santa Monica Place in Santa Monica California, but Church Street Marketplace in Burlington Vermont is neck to neck in style and grace. Beautiful historic architecture and 100's of shops to explore, this open-air mall is filled with sites and activities for everyone. With year-round festivals and events that occur, the fun never stops.
The Church Street Marketplace webcam gives you a wonderful view of the main strip of the open air mall and shops. The view switches frequently of the different areas of the street showing the restaurants and stores along the strip that are available. Watch the many festivals and events that unfold in this incredible place live 24 hours a day, 7 days a week.
Check out the current activities available and weather conditions before making the trip. Want to know how congested the area is before visiting? This camera gives you a clear view of the area and foot traffic as it occurs.