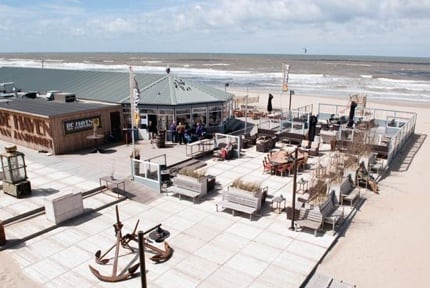 De Haven Beach Bar
Category:
Bars
Location:
Netherlands
Zandvoort
Source:
dehavenvanzandvoort.nl
De Haven Beach Bar is located at the Port of Zandvoort in Amsterdam. Sitting right on the beach, the restaurant offers great food and a relaxing atmosphere. Enjoy the sound of the ocean water crashing against the shore while you dine on the best Dutch food Amsterdam has to offer.
This webcam gives a great view of the main dining area right on the beach. Watch as diners enjoy their meals surrounded by the warmth of the sun and smell of the salty air. A beautiful backdrop of the ocean water along with the surrounding sandy white beach can be seen in this live stream offering a relaxing scene to behold.
Be sure to watch this camera before visiting the bar for current weather and traffic conditions. This cam is best viewed during business hours but the scenery is beautiful to watch even outside of business hours. Night time may be a bit dim to see except, maybe, on full moon nights.