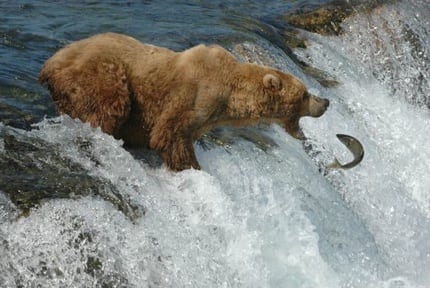 Katmai National Park
Category:
Animals
Location:
USA
Alaska
Source:
explore.org
Katmai National Park based in Southern Alaska covers an area of approximately 4,000,000 acres. Hunting or fishing is forbidden in this area as this is a protected area for a variety of wildlife and natural habitats. Nature enthusiasts are given an amazing treat because there are four cameras that occupy the park giving you the ability to watch and observe the wildlife that resides here unobtrusively.
Lower River
This camera covers the lower river area of the Brooke Falls River. Surrounded by the beautiful scenery, watch live as various species of birds swoop down to land in the cooling water hunting for their daily meal. Keep watch on this live feed and you will also see various wildlife such as bears and moose come down for a drink of the refreshing waters of the river.
River Watch
Facing another section of the Brooke Falls River, the river watch camera gives you a wide view of the river area. Surrounded by a beautiful scenery of lush trees with the river as the main focus, you can watch the bears hunt and play in the rivers water. This camera moves from left to right occasionally giving you a full view of the area.
Brooke Falls
Do you like bears? The Brooke Falls camera covers an area of the rapids of Brooke Falls where bears frequent to catch their daily meals or even just to romp around in the cool refreshing waters.
Underwater Cam
View the world beneath the surface of the river in this underwater camera set in a popular spot for bears to hunt for their meal. Watch as they dive into the murky blue of the rivers water to catch the various fish that occupy this section of the river in this live feed.
Dumpling Mountain
This camera gives you a clear gorgeous view of the mountains and river. Panning from right to left, you get a spectacular view of the area around as well as possible sightings of some of the area amazing wildlife.
Note: These cameras are located outdoors (except the Dumpling Mountain cam) so please expect a little bit of shaking and, from time to time, blackouts depending on weather conditions.
Best viewing times are during daylight hours as visibility at night is poor.