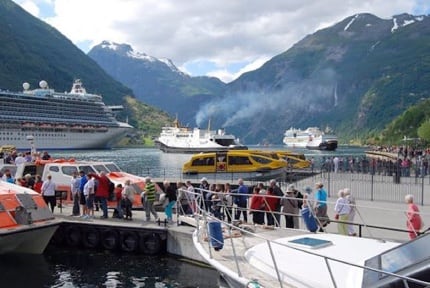 Geirangerfjord Cruise Port
Category:
Water
Location:
Norway
Geiranger
Source:
youtube.com
Named as the best cared for UWH (Unesco World Heritage) site by National Geographic, Geirgagerfjord Cruise Port is a breathtaking site. Surrounded by incredible steep mountains covered in lush green vegetation, this narrow fjord is a place that you could never forget. If the mountains and fjord are not much of an attraction for you, Hellesylt pier is also widely used as a starting point for overland excursions into the Geiranger and Stranda, Scandinavia's most known skiing attraction.
Situated with an amazing view of the sea walk at the secluded Hellesylt pier, the lush green mountain's surrounding the deep blue waters are the main attractant for tourist around the world. You get a wonderful view of the port and visitation center which is filled with all kinds of activities including historical information on this narrow fjord.
Best visibility of the port is during the day as you can see the current activities of visitors from around the world. Check out the weather conditions for the area before visiting or just sit back and enjoy the view live through this amazing webcam.