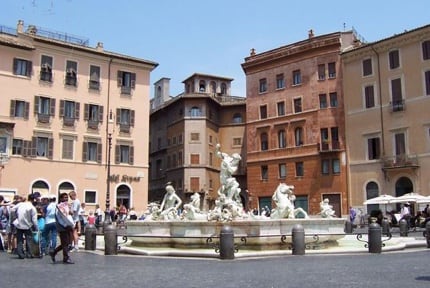 Rome: Navona Square
Category:
Cities
Location:
Italy
Rome
Source:
whatsupcams.com
Piazza Navona in Rome, Italy was built on the site of the Roman Stadium Domitian aka Circus Agonalis or Competition Arena in the first century AD by the ancient Romans. Following the open space idea of the stadium Piazza Navona has become a centerpiece of beautifully crafted fountains such as the Fontana dei Nettuno (Fountain of Neptune), Fontana dei Quattro (Fountain of Four Rivers), and Fountana della Barcaccia (Fountain of the Ugly Boat). There are two cameras that are available to view live online 24 hours a day seven days a week.
Camera 1 faces north showing an incredible view of the Fountain of Neptune. The Fountain of Neptune was once called Fontana dei Calderari due to the ally way it sat next to that was filled with metal working shops such as a black smithy forge.
Second webcam faces south-east showing a clear view of the Fountain of the Ugly Boat just below the Spanish Steps. The fountain was so named due to the frequent floods that plagued the area before the river wall was erected. After one particularly bad flood receded, there remained a small boat in the Piazza which the fountain was designed to represent.