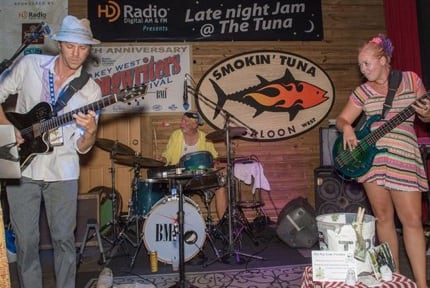 Smokin' Tuna Saloon
Category:
Bars
Location:
USA
Key West
Source:
smokintunasaloon.com
The Smokin' Tuna Saloon is an open bar in Key West Florida with live entertainment. Located on Charles Street, the bar is open daily from 10 AM to 2 AM, the raw bar and restaurant are open daily from 10 AM to 9 PM, and the Mercantile is open daily from 10 AM to 9 PM. Serving a variety of foods from sandwiches to full course dinners, the friendly atmosphere is a treat to enjoy.
Stage Cam
The Stage camera covers the stage area. You can sit back and enjoy the live entertainers from the comfort of your own home. Equipped with a microphone, you get both a clear view of the performance as well as can hear the great music being played.
Bar Cam
The bar camera gives you a full view of the entire bar. You can watch as the patrons joke around with the staff as they order their drinks. It is a very laid back scene to see. You also get a view outside the bar so that you can see the current weather and traffic conditions in the area before visiting.