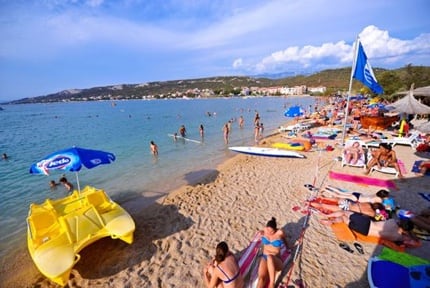 Croatia Beaches
Category:
Beaches
Location:
Croatia
Source:
whatsupcams.com
Croatia is a small European country located in the Adriatic sea, approximately 417 km (256 miles) across from Italy. Consisting of over a thousand islands, this little country is renowned for its beaches and beautiful scenery. Its location being an inlet between the Italian peninsula and the main continent gives it the perfect environment for vacationers from around the world keeping the waters calm and inviting. Check out these five webcams before visiting for current weather condition and visitor traffic in the area.
Selce Diving Center
This camera is available 24 hours a day 7 days a week and covers the diving area of the Selce. Watch as divers prepare for their diving adventures in this live cam day or night.
Planjka Cam
Night viewing of this camera is not likely but during the day you get a vision of beautiful blue water and sandy beaches. Marking the background are amazing hills of green and the Croatian city of Stara Novalja.
Simuni Cam
Though lit up, night view on this area is poor. During daylight hours you get a birdseye view of the beach and the boardwalk lined with benches. You also get a view of the water playground set up for tons of fun.
Igrane Cam
Located on the Makarska Riviera, this webcam covers the Igrane Harbor. Day and night views are spectacular. Watch live as visitors visit the stores and restaurants along the riverfront.
Podgora Cam
A birdseye view of the entire port and boardwalk, this camera covers the entire area of this amazing place. During the night you can view the boardwalk and the city lights in the background. During the day you can see the beautiful blue waters and activities that visitors get to enjoy.