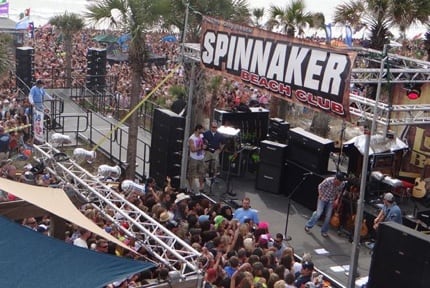 Spinnaker Beach Club
Category:
Bars
Location:
USA
Panama City Beach
Source:
spinnakerbeachclub.com
Rated 4 out of 5 stars by Trip Advisor for great food and great entertainment, Spinnaker Beach Club is a hot spot when visiting Panama City Beach in Florida. Get in on the action, live with great entertainers such as Superfunk Fantasy and DJ Mike Holiday. Don't forget Karaoke night every Friday and Saturday night from 10 pm to close as the regular "joe" shows off their incredible singing skills.
The Rock Arena camera gives you a full view of the staging area. You can watch live as bands, DJ's, and amateur performers entertain for your viewing pleasure. This stage has seen A-list bands such as Lynard Skynard, The Beastie Boys, ZZ Top, and so much more.
Get a peek at Spinnaker Beach Club's amazing back yard through this rear facing camera overlooking the boardwalk and beautiful sunny Panama City Beach. Available day or night, check out the current weather conditions and beach congestion before visiting or just sit back in your own home and listen to the waves crashing against the shore.