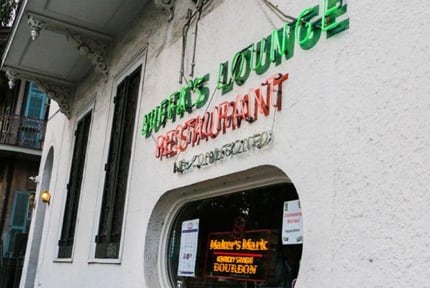 Buffa's Lounge Bar
Category:
Bars
Location:
USA
New Orleans
Source:
buffasbar.com
Open since 1939, Buffa's Lounge Bar and Restaurant in New Orleans, Louisiana is open 24 hours a day, 7 days a week and never closes. Offering great food and a variety of alcoholic beverages, this may seem like a little whole in the wall but has a surprise. In the backroom of this establishment is a stage available for all sorts of live entertainment and has just been newly remodeled. Visit their site at Buffa's Bar for more information on their lineup dates and times.
The bar camera is available 24 hours a day, 7 days a week. It covers the entire front area of the bar and restaurant. Enjoy the atmosphere without having to set foot into the building from the comfort of your home or check this live feed before visiting to ensure it is not over crowded.
The stage camera covers the entire stage area in the back room. Watch live entertainment daily from Monday - Tuesday 6PM to Close, Wednesday - Saturday 11AM to Close, Sunday 10AM to Close. You get a full view of the performance without having to content with other onlookers in the process with this live stream.